It's a new year and I thought I should do something new in my bookworm diary, too. I remember planning to post something about my most anticipated 2016 book releases before last year ended and now it's the second day of 2016 already, but I think it's not inexcusable to enjoy the new year via food coma and watching (again and again and again) Taylor Swift's
#OOTWMusicVideo
, right?
Right.
Anyway, I still thought of posting such diary entry, but there were some problems with that. The biggest one is that some books that are scheduled to be released later this year still don't have covers and some, like the third book of Marie Lu's
The Young Elites
, still don't have exact release dates. Since I have a mild case of OCD, I didn't want my post to be incomplete and not uniform. I've thought about doing it monthly, too, but the post would be too short and will probably not be worth
your
time reading. So, I've decided that I'm going to do it quarterly.
Yes, here I am presenting to you my most anticipated books coming out in the next three months!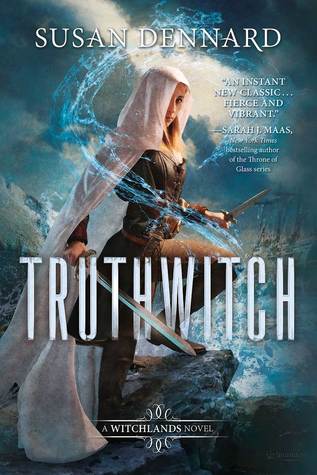 Truthwitch (The Witchlands, #1)
by Susan Dennard
Date of Publication: January 5th 2016
Synopsis:
On a continent ruled by three empires, some are born with a "witchery", a magical skill that sets them apart from others.
In the Witchlands, there are almost as many types of magic as there are ways to get in trouble—as two desperate young women know all too well.
Safiya is a Truthwitch, able to discern truth from lie. It's a powerful magic that many would kill to have on their side, especially amongst the nobility to which Safi was born. So Safi must keep her gift hidden, lest she be used as a pawn in the struggle between empires.
Iseult, a Threadwitch, can see the invisible ties that bind and entangle the lives around her—but she cannot see the bonds that touch her own heart. Her unlikely friendship with Safi has taken her from life as an outcast into one of reckless adventure, where she is a cool, wary balance to Safi's hotheaded impulsiveness.
Safi and Iseult just want to be free to live their own lives, but war is coming to the Witchlands. With the help of the cunning Prince Merik (a Windwitch and ship's captain) and the hindrance of a Bloodwitch bent on revenge, the friends must fight emperors, princes, and mercenaries alike, who will stop at nothing to get their hands on a Truthwitch.
Bookishly Ever After (Ever After, #1)
by Isabel Bandeira
Date of Publication: January 12th 2016
Synopsis:
In a perfect world, sixteen-year-old Phoebe Martins' life would be a book. Preferably a YA novel with magic and a hot paranormal love interest. Unfortunately, her life probably wouldn't even qualify for a quiet contemporary. But when Phoebe finds out that Dev, the hottest guy in the clarinet section, might actually have a crush on her, she turns to her favorite books for advice. Phoebe overhauls her personality to become as awesome as her favorite heroines and win Dev's heart. But if her plan fails, can she go back to her happy world of fictional boys after falling for the real thing?
Never Never Part 3
by Colleen Hoover and Tarryn Fisher
Date of Publication: January 26th 2016
Synopsis:
*It doesn't have any synopsis on Goodreads, but we'll buy it anyhow. Because it's that awesome*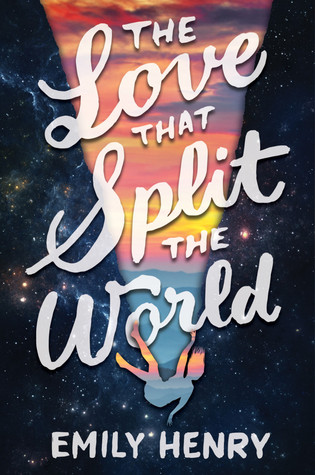 The Love that Split the World
by Emily Henry
Date of Publication: January 26th 2016
Synopsis:
Natalie Cleary must risk her future and leap blindly into a vast unknown for the chance to build a new world with the boy she loves.
Natalie's last summer in her small Kentucky hometown is off to a magical start... until she starts seeing the "wrong things." They're just momentary glimpses at first—her front door is red instead of its usual green, there's a pre-school where the garden store should be. But then her whole town disappears for hours, fading away into rolling hills and grazing buffalo, and Nat knows something isn't right.
That's when she gets a visit from the kind but mysterious apparition she calls "Grandmother," who tells her: "You have three months to save him." The next night, under the stadium lights of the high school football field, she meets a beautiful boy named Beau, and it's as if time just stops and nothing exists. Nothing, except Natalie and Beau.
Emily Henry's stunning debut novel is Friday Night Lights meets The Time Traveler's Wife, and perfectly captures those bittersweet months after high school, when we dream not only of the future, but of all the roads and paths we've left untaken.
by Christine Brae
Date of Publication: January 22nd 2016
Synopsis:
"Lovers don't finally meet somewhere,
They're in each other all along."
Rumi
They say that life is full of choices. When you're young and idealistic, you believe that the path you choose is the road that will lead you to your destiny.
But what if, along the way, fate decides to step in, and no amount of logic or rationality or even prayers can save you from your fortune? When the sacrifices you make, the love that you find, and the bright promise of the future are all snatched away from you, you're left alone to pick up the pieces of your life.
This is a story about love, found in a faraway place by two very unlikely people. It is also a story about friendship and loyalty and fighting for what you have despite the illogical mystery of fate. It is a story of faith and acceptance, and learning that even the best-laid plans are powerless against the alignment of the universe.
From the beaches of Thailand to the streets of New York, three friends, Anna, Dante, and Jude will learn the hard way that once providence steps in, there is nothing in the world that can change what is truly meant to be.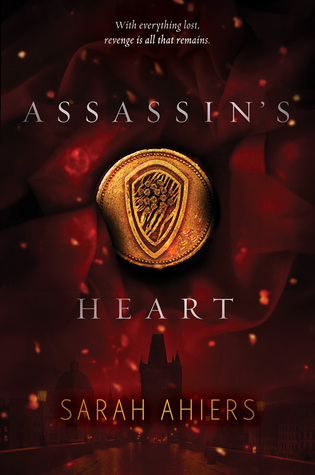 Assassin's Heart (Assassin's Heart, #1)
by Sarah Ahiers
Date of Publication: February 2nd, 2016
Synopsis:
In the kingdom of Lovero, nine rival Families of assassins lawfully kill people for a price. As a highly skilled member of one of these powerful clans, seventeen-year-old Lea Saldana has always trusted in the strength of her Family. Until she awakens to find them murdered and her home in flames. The Da Vias, the Saldanas' biggest enemy, must be responsible—and Lea should have seen it coming. But her secret relationship with the Da Vias' son, Val, has clouded her otherwise killer instinct—and given the Da Vias more reason than ever to take her Family down.
Racked with guilt and shattered over Val's probable betrayal, Lea sets out to even the score, with her heart set on retaliation and only one thought clear in her mind: make the Da Vias pay.
With shades of The Godfather and Romeo and Juliet, this richly imagined fantasy from debut author Sarah Ahiers is a story of love, lies, and the ultimate vengeance.
by Melissa Landers
Date of Publication: February 2nd, 2016
Synopsis:
Life in the outer realm is a lawless, dirty, hard existence, and Solara Brooks is hungry for it. Just out of the orphanage, she needs a fresh start in a place where nobody cares about the engine grease beneath her fingernails or the felony tattoos across her knuckles. She's so desperate to reach the realm that she's willing to indenture herself to Doran Spaulding, the rich and popular quarterback who made her life miserable all through high school, in exchange for passage aboard the spaceliner Zenith.
When a twist of fate lands them instead on the Banshee, a vessel of dubious repute, Doran learns he's been framed on Earth for conspiracy. As he pursues a set of mysterious coordinates rumored to hold the key to clearing his name, he and Solara must get past their enmity to work together and evade those out for their arrest. Life on the Banshee may be tumultuous, but as Solara and Doran are forced to question everything they once believed about their world--and each other--the ship becomes home, and the eccentric crew family. But what Solara and Doran discover on the mysterious Planet X has the power to not only alter their lives, but the existence of everyone in the universe...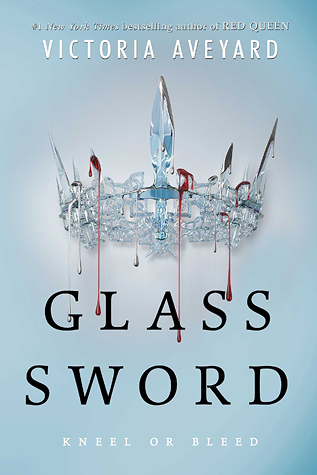 Glass Sword (Red Queen, #2)
by Victoria Aveyard
Date of Publication: February 9th 2016
Synopsis:
Mare Barrow's blood is red—the color of common folk—but her Silver ability, the power to control lightning, has turned her into a weapon that the royal court tries to control.
The crown calls her an impossibility, a fake, but as she makes her escape from Maven, the prince—the friend—who betrayed her, Mare uncovers something startling: she is not the only one of her kind.
Pursued by Maven, now a vindictive king, Mare sets out to find and recruit other Red-and-Silver fighters to join in the struggle against her oppressors.
But Mare finds herself on a deadly path, at risk of becoming exactly the kind of monster she is trying to defeat.
Will she shatter under the weight of the lives that are the cost of rebellion? Or have treachery and betrayal hardened her forever?
Riders (Riders, #1)
by Veronica Rossi
Date of Publication: February 16th 2016
Synopsis:
For eighteen-year-old Gideon Blake, nothing but death can keep him from achieving his goal of becoming a U.S. Army Ranger. As it turns out, it does.
Recovering from the accident that most definitely killed him, Gideon finds himself with strange new powers and a bizarre cuff he can't remove. His death has brought to life his real destiny. He has become War, one of the legendary four horsemen of the apocalypse.
Over the coming weeks, he and the other horsemen--Conquest, Famine, and Death--are brought together by a beautiful but frustratingly secretive girl to help save humanity from an ancient evil on the emergence.
They fail.
Now--bound, bloodied, and drugged--Gideon is interrogated by the authorities about his role in a battle that has become an international incident. If he stands any chance of saving his friends and the girl he's fallen for--not to mention all of humankind--he needs to convince the skeptical government officials the world is in imminent danger.
But will anyone believe him?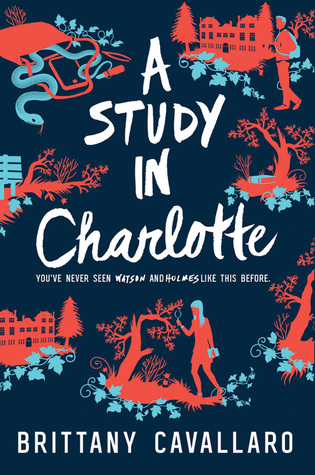 A Study in Charlotte (Charlotte Holmes, #1)
by Brittany Cavallaro
Date of Publication: March 1st 2016
Synopsis:
The last thing sixteen-year-old Jamie Watson–writer and great-great-grandson of the John Watson–wants is a rugby scholarship to Sherringford, a Connecticut prep school just an hour away from his estranged father. But that's not the only complication: Sherringford is also home to Charlotte Holmes, the famous detective's enigmatic, fiercely independent great-great-granddaughter, who's inherited not just his genius but also his vices, volatile temperament, and expertly hidden vulnerability. Charlotte has been the object of his fascination for as long as he can remember–but from the moment they meet, there's a tense energy between them, and they seem more destined to be rivals than anything else.

Then a Sherringford student dies under suspicious circumstances ripped straight from the most terrifying of the Holmes stories, and Jamie and Charlotte become the prime suspects. Convinced they're being framed, they must race against the police to conduct their own investigation. As danger mounts, it becomes clear that nowhere is safe and the only people they can trust are each other.

Equal parts tender, thrilling, and hilarious, A Study in Charlotte is the first in a trilogy brimming with wit and edge-of-the-seat suspense.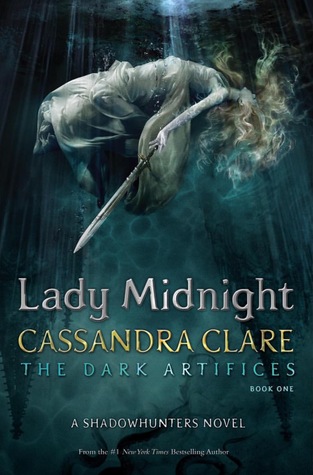 Lady Midnight (The Dark Artifices, #1)
by Cassandra Clare
Date of Publication: March 8th 2016
Synopsis:
Los Angeles. It's been five years since the events of the Mortal Instruments when Nephilim stood poised on the brink of oblivion and Shadowhunter Emma Carstairs lost her parents. After the blood and violence she witnessed as a child, Emma has dedicated her life to to discovering exactly what it was that killed her parents and getting her revenge.

Raised in the Los Angeles Institute with the Blackthorn family, Emma is paired as a parabatai with her best friend, Julian Blackthorn. A series of murders in the city catch her attention — they seem to have the same characteristics as the deaths of her parents. Could the murderer be the same person? And her attention isn't the only one caught: someone has been murdering Downworlders as well. The Fair Folk make a deal with the Institute: if the Blackthorns and Emma will investigate the killings, they'll return Mark Blackthorn to his home. The catch: they have only two weeks to find the killers. Otherwise it's open war between faeries and Nephilim.

The Shadowhunters of the Institute must race against time to catch the killers, even as they begin to suspect the involvement of those closest to them. At the same time, Emma is falling in love with the one person in the world she's absolutely forbidden by Shadowhunter Law to love. Set against the glittering backdrop of present-day Los Angeles, Emma must learn to trust her head and her heart as she investigates a demonic plot that stretches from the warlock-run nightclubs of the Sunset Strip to the enchanted sea that pounds the beaches of Santa Monica.
This Is Where the World Ends
by Amy Zhang
Date of Publication: March 22nd 2016
Synopsis:
The heart-wrenching new novel about best friends on a collision course with the real world, from the author of Falling into Place.
Janie and Micah, Micah and Janie. That's how it's been ever since elementary school, when Janie Vivian moved next door. Janie says Micah is everything she is not. Where Micah is shy, Janie is outgoing. Where Micah loves music, Janie loves art. It's the perfect friendship, as long as no one finds out about it.
But when Janie is date-raped by the most popular guy in school—a guy she's had a crush on for years—she finds herself ostracized by all the people she thought were her friends. Now only Micah seems to believe she's telling the truth. But when even Micah expresses doubt about whether or not she was "asking for it," it leads to disastrous consequences, and Janie Vivian goes missing.
Using a nonlinear writing style and dual narrators, Amy Zhang's astonishing second novel masterfully reveals the circumstances surrounding Janie's disappearance.
by April Genevieve Tucholke
Date of Publication: March 22nd 2016
Synopsis:
The intrigue of The Virgin Suicides and the "supernatural or not" question of The Unbecoming of Mara Dyer coalesce in this young adult mystery, where nothing is quite as it seems, no one is quite who you think, and everything can change on a dime.

Every story needs a hero.
Every story needs a villain.
Every story needs a secret.

Wink is the odd, mysterious neighbor girl, wild red hair and freckles. Poppy is the blond bully and the beautiful, manipulative high school queen bee. Midnight is the sweet, uncertain boy caught between them. Wink. Poppy. Midnight. Two girls. One boy. Three voices that burst onto the page in short, sharp, bewitching chapters, and spiral swiftly and inexorably toward something terrible or tricky or tremendous.

What really happened?
Someone knows.
Someone is lying.

For fans of Holly Black, We Were Liars, and The Raven Boys, this mysterious tale full of intrigue, dread, beauty, and a whiff of something strange will leave you utterly entranced.
by Marie Rutkoski
Date of Publication: March 29th 2016
Synopsis:
War has begun. Arin is in the thick of it, with the East as his ally and the empire as his enemy. He's finally managed to dismiss the memory of Kestrel, even if he can't quite forget her. Kestrel turned into someone he could no longer recognize: someone who cared more for the empire than for the lives of innocent people—and certainly more than she cared for him. At least, that's what he thinks.

But far north lies a work camp where Kestrel is a prisoner. Can she manage to escape before she loses herself? As the war intensifies, both Kestrel and Arin discover unexpected roles in battle, terrible secrets, and a fragile hope. The world is changing. The East is pitted against the West, and Kestrel and Arin are caught between. In a game like this, can anybody really win?
And there you have it. What are your most anticipated reads this year? Let me know in the comments!
Love,